This article shows you how to create a new employer file and enter basic employer information.
Creating a New Employer
On Windows, double click the 1095 shortcut on the desktop or click the Start menu, select Programs, then select CheckMark 1095 from the CheckMark Inc. File.
On Macintosh, double click on the CheckMark 1095 alias on the dock or on your Desktop, or double click the CheckMark 1095 icon located in the install folder that was installed on your hard drive
Click the New Employer button in the middle of the screen.
Note: If the New Employer button is greyed out that means you need to first open a database or create a database. Learn more about Creating a Database.
Enter Employer Information for all required fields.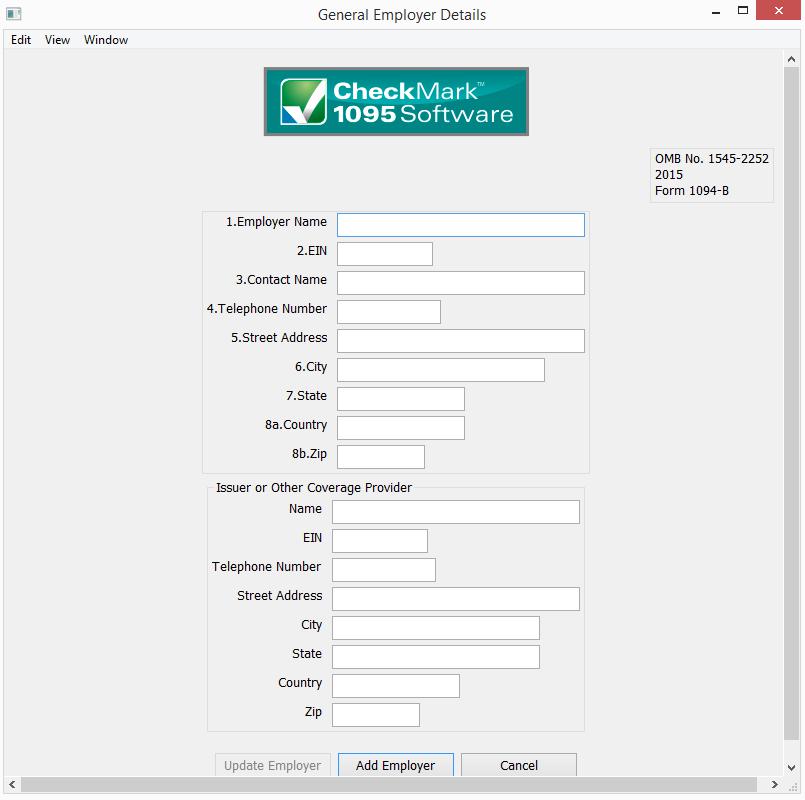 Click Add Employer button to Save.
Updating an Existing Employer
Highlight the employer in the list you wish to update and click the Update Employer button.
After all changes have been made to the Employer Information, click the Update Employer button to save the changes
Deleting an Employer
You cannot delete an employer if there are any employees created within the employer. You must delete the employees first before deleting an employer. For information on deleting employees see "Deleting an Employee."
Select the employer you wish to delete.
Click Delete Employer
In the pop-up window, click the Confirm Delete button.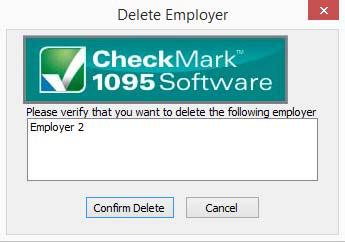 If no employees are associated with this employer, the employer will be deleted.
Filtering Employers
You can use the Filter button to search for certain employers in the list. To find a particular employer, enter all or part of the name of the employer into the Filter box area at the top of the screen and click the Filter button. The Filter will search for any employers that contain those variables.
You can also use an asterisk (*) to help sort groups. For instance, if you enter the first letter and then asterisk, (ex: N*), you will receive all employers that begin with the letter "N".
Sorting Employers
You can sort employers by Ascending or Descending order. To select which type of sort to use, go under the Sort menu at the top of the screen and choose either Sort Employers Ascending or Sort Employers Descending.