E-Filing 1099 Forms
This article shows you how to eFile 1099 forms using the IRS Filing Information Returns Electronically (FIRE) System. If you have never eFiled 1099s in the past, You will need to visit the IRS website at www.irs.gov to sign up for a FIRE system account and receive a Transmitter Control Code (TCC), You should do this 45-60 days before the filing deadline.
While CheckMark Inc. attempts to maintain up-to-date and accurate tax and for information, we cannot be held responsible for changes or discrepancies in tax values and forms that are filed incorrectly.
NOTE: The ability to eFile is only is only available to customers who have purchased the 1099 eFile version. If you need to upgrade from the printed version, visit the CheckMark website at www.checkmark.com.
Summary Report
The 1099 Summary Report Summarizes vendor payments by 1099 type. These totals can be compared to Box 5 on Form 1096. Utilize this report to verify the accuracy of your values before printing.
Under File, select Summary Report. Click Print.
Creating a file to eFile
Select the company you want to eFile for. You can select multiple companies if you wish. For information on selecting multiple companies, see Selecting Multiple Companies.
Select the recipients you wish to include. You can sort using the different forms or choose All Forms from the drop down menu to select all recipients. For information on selecting multiple recipients, see Selecting Multiple Recipients.
Note: You must choose at least one company, but if you do not choose any recipients, all recipients will be included in the eFile.
You can sort the recipients by the Status drop down menu to group recipients as Printed, Completed, Validated, Corrected and Void. For more information on using the Status drop down menu and what Status means, see "Status" in Recipients Set Up.
From the File menu, choose eFile…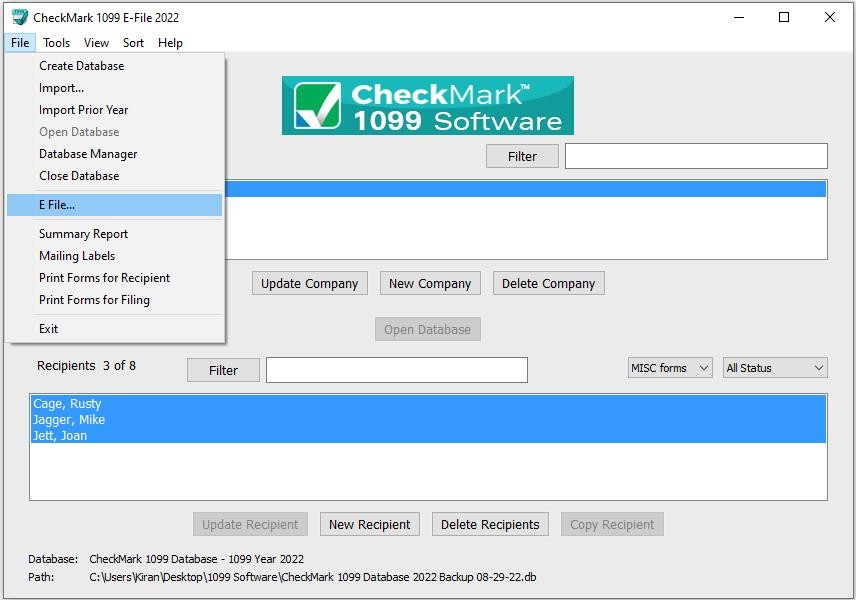 In the pop-up window. Fill in all applicable fields.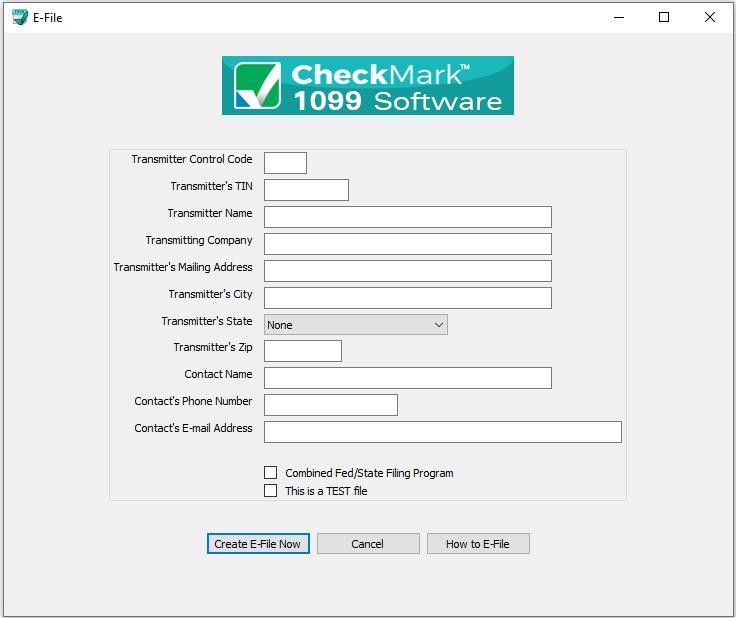 Optional: If you need more information on how to set up an E-file account, Click the How to E-file button. A pop-up window with important links on how to first apply, create a FIRE system account.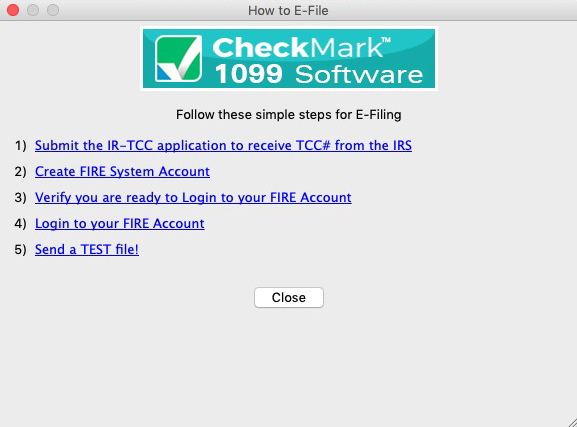 Once all the information is filled in, click the Create E-File Now button.
If there are any errors in the transmitter information window, you will see a pop-up window explaining what errors occurred.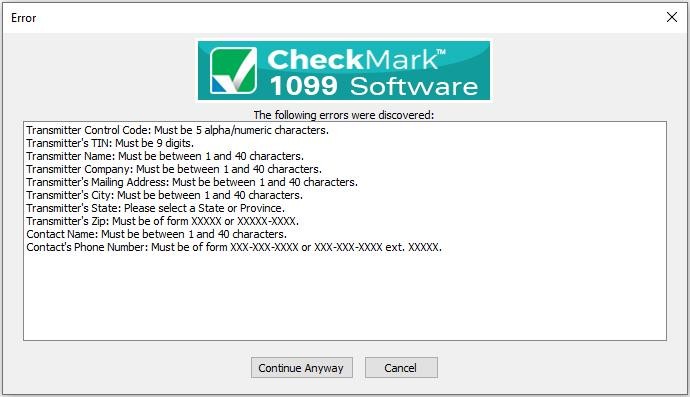 Click Cancel to go back to the transmitter information window to correct any set up errors. Or click Continue Anyway to proceed with saving the .txt file.
A Save as dialog box opens.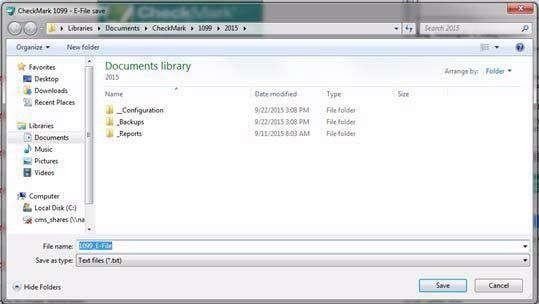 Enter a name for the file or use the default name if one is given. Save the file to a location that is easy to find. The Desktop is an easy location to save the file to and find it there later when you are ready to submit the file to the IRS FIRE system. Click Save.