Import Employees from CheckMark Payroll and MultiLedger
Open the CheckMark 1095 application.
Open the Database which contains the employer you want to import into.
Select 1094-B or 1094-C depending on which type you will be importing.
Select the employer you want to import employees for.
Note: If the employer you want to import employees to does not exist, you will need to create a new employer or import a employer before importing employees. For information on creating a new employer or importing a employer, see "Creating a New Employer" or "Importing an Employer"
Under the File menu select Import…
Select Import Employee in the popup window.
Click the Import from Payroll or MultiLedger button. The appropriate fields will automatically populate for you.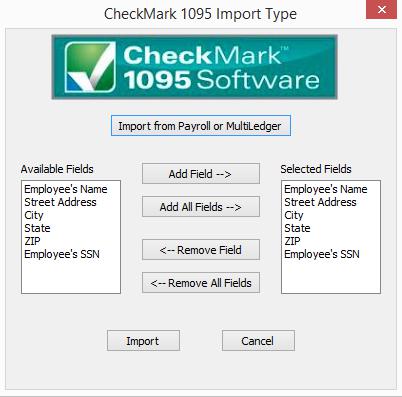 A dialogue box appears allowing you to browse to the location where you saved your text file from CheckMark Payroll or MultiLedger.
Select the text file and click Open. All employees will be imported into the selected employer.
---
Related Articles
How to Export Company Information from CheckMark Payroll
How to Export Company Information from CheckMark MultiLedger
How to Export Employees from CheckMark Payroll
How to Import Employer from CheckMark Payroll or MultiLedger
How to Import Data Using Tab-Delimited Text File in CheckMark 1095 Software