Click Item Purchases in the Command Center.
If necessary, enter or change the Document # and press TAB.
The Vendors pop-up list appears: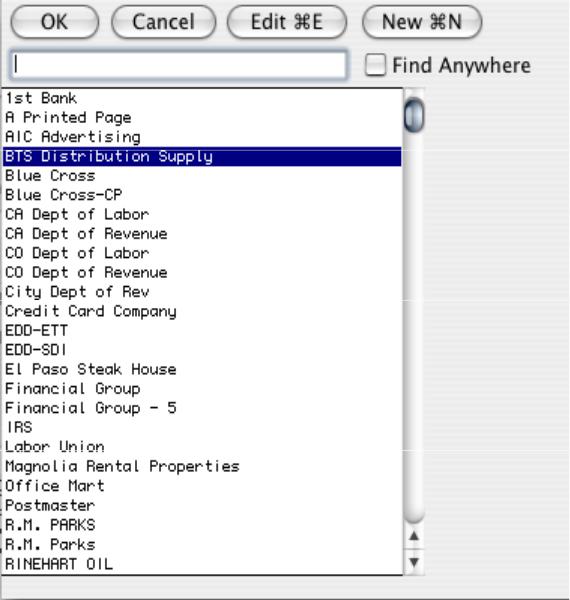 Select a vendor from the pop-up list and press TAB.
For details about using pop-up lists, see "Using Pop-Up Lists."
Note:  After selecting a vendor, you can see the vendor's transaction history by clicking the History button at the top of the Item Purchase window.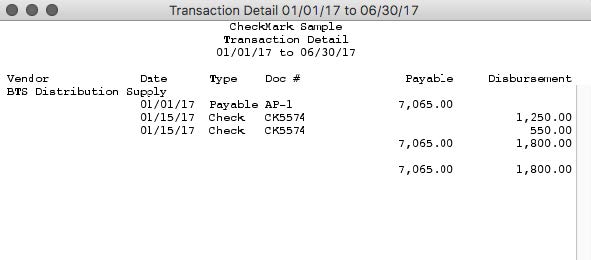 The current date is used as the Cutoff Date for the report. Click the window's close box to close it and return to the Item Purchases window.
Continue filling in the rest of the fields with the appropriate information.
For field explanations, see "Item Purchases Field Descriptions."
Note: You can add comment lines to the Item Purchases document at any time by choosing Insert Line from the Edit menu (Ctrl-I on Windows or Ion Macintosh). By selecting the option to Modify Item Description,    you can also change or enter additional text in the item description line.This text will show on an invoice and in the transaction journal reports. For more details, see "Adding Comment Lines to Transactions."
After you have entered an item, quantity, unit cost, and amount (Job is optional), press TAB to add the item to the document.
As you add detail lines to the document, the Total field is updated:


  After the first detail line is added, the Save button is enabled.
On Windows, if necessary, press New Line or click ENTER to begin entering another item to this document.
On Macintosh, if necessary, press TAB or RETURN to begin entering another item to this document.
When you are finished entering all the information for the document, click Save.
If the Total exceeds the vendor's credit limit, an alert appears allowing you to continue to save or cancel.
After the document is saved, the transaction is automatically posted to the general ledger, and the Document # is increased by one.
Printing an Item Purchase
After saving an Item Purchase, do the following:
Click Print on the Command Center.
Select the correct period
Click the Item Purchases/PO's radio button.
From the list of documents, select the purchases that you want to print.
If no purchases are selected, then all purchases will print.
If necessary, check Print Metafile (Windows) or Print PDF/PICT File (Macintosh).
For more information on using metafiles or PICT Files, see "Using the Print Screen."
Click Print.
Select your print options and click OK or Print.
For more details about the Print command, see "Using thePrint Screen."
Modifying or Deleting an Item Purchase

When the cursor is in the Document # field, the Modify button is enabled. Click Modify to see a list of Item Purchases that you can modify or delete. If the Item Purchase you're looking for doesn't appear,  you may have to select another month from the pull-down menu.
---
Related
Articles
Vendor Transactions Flowchart for CheckMark MultiLedger
How to Record Purchases in CheckMark MultiLedger
Item Purchases in CheckMark MultiLedger
How to Record, Modify & Delete a Purchase with Item Purchases
Payable Journals in CheckMark MultiLedger
How to Record, Modify & Delete a Purchase with the Payables Journal
Disbursements Journal in CheckMark MultiLedger
How to Record, Modify & Delete a Check with the Disbursements Journal
Vendor Payments in CheckMark MultiLedger
How to Record, Modify & Delete Vendor Payments
How to Create a Purchase Order