Setting Up Budget Amounts
You can set up and edit monthly budget amounts for income and expense accounts (account numbers 4000 and greater) for all open months.
Note:  To see budget amounts in a report format, click Income Statement in the Command Center, click the Budget Report option or the Income vs Budget option, select a month or range of months, then click View or Print.
You can also import or export budget amounts. For more details, see "Importing and Exporting Data."
Click Budget Amounts in the Command Center.
All budget amounts are initially set to 0.00.
Select the fiscal year you want from the pull-down menu.
The default selection is the first open year.
Select the appropriate income or expense account from the list on the left.

Enter the budget amount in the edit box for each month on the right and press TAB.
You can also use the down arrow keys on your keyboard to move down to another amount or click any amount to edit it.

To copy the amount in the edit box to all months, click the Annualize button. After you click Annualize, you can still modify any month's amount before saving. As you enter budget amounts for the account, the total for the year is shown at the bottom of the budget amounts: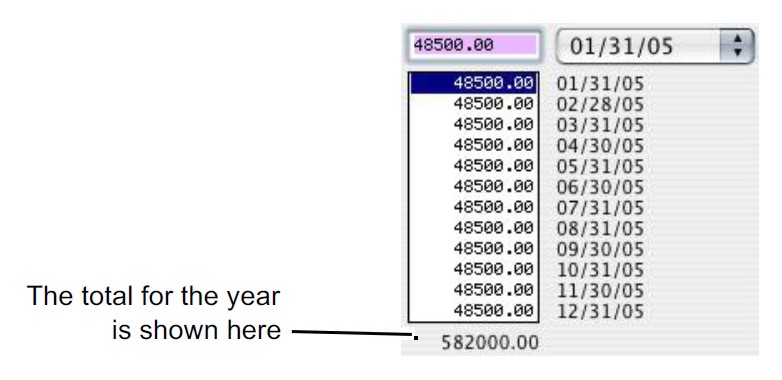 Click Save after editing the budget amounts for each account.
Be sure to click Save before selecting another account, or else your changes will be lost.
---
Related Articles
How to Set Up, Modify & Delete Shipping Methods in CheckMark MultiLedger
How to Set Up Profit Centers in CheckMark MultiLedger
How to Set Program Preferences in CheckMark MultiLedger
How to Set User Settings in CheckMark MultiLedger
How to Customize Financial Statements in CheckMark MultiLedger
How to Set Up, Modify & Delete Jobs in CheckMark MultiLedger
How to Set Up, Modify & Delete Sales Tax in CheckMark MultiLedger
How to Set Up, Modify & Delete Salespersons in CheckMark MultiLedger
How to Select Font for Printing in CheckMark MultiLedger
How to Use Print Screen in CheckMark MultiLedger
How to Set Up MICR Encoding Information in CheckMark MultiLedger
How to Format Checks, Invoices, Statements, 1099s & Deposits in CheckMark MultiLedger