Trial Balance Report
A trial balance report shows ledger accounts, their beginning balances (optional), their monthly activity and their year-to-date balances, and whether or not your debits equal your credits. Debits should equal credits for your books to balance.
You can use a trial balance report to quickly look at your account balances for a particular period.
Click Trial Balance in the Command Center.
Select a period for the report.
Only one period can be selected at a time. The default period selected corresponds to the last month in which transactions were entered.
If necessary, check the option Show Zero Balances.
Image 223
If Show Zero Balances is checked, the report will show balances for all accounts in your chart of accounts, including those with zero activity and zero year-to-date balances.
If desired, check the option Show Beginning Balances.
If checked, the report will show the beginning balances for the period selected along with monthly activity and YTD balances.
Click View, Print, or Text File.
Drill Down on Trial Balance Report
The Trial Balance report has a drill-down function that allows you to quickly see the general ledger listing for any amount in the Monthly  Activity column on a Trial Balance report. To utilize the drill-down capabilities, do the following:
While viewing a Trial Balance report, move the pointer over the Monthly Activity column.
The pointer tool changes to a magnifying glass tool.
With the magnifying glass tool, click on the amount in the Monthly Activity column that you want to see in drill-down mode.
A General Ledger listing for that specific month and account appears. From this General Ledger listing you can go directly to an original transaction. For more details, see "Drill Down on General Ledger Report"
To return to the Trial Balance report, click the General Ledger report's close box.
Prior Year Income
If you have 2016, 2017, & 2018 open in your files, 2016 is considered your current year. You need to keep 2017 open in order to get Prior Year comparison reports for 2016 vs 2017.
Because you haven't closed 2016, your income and expenses for 2016 haven't rolled into retained earnings yet in the General Ledger or Trial Balance. So when you look at your trial balance for 2017, it shows the retained earnings from 2016 as a separate line at the bottom under the totals in "Prior Income".
As long as the Ledger Debit line equals the total of the Ledger Credit+/- the Prior Income, then you are in balance.
If you look at the Balance Sheet, it reflects the amount going into Retained Earnings.
Trial Balance report example: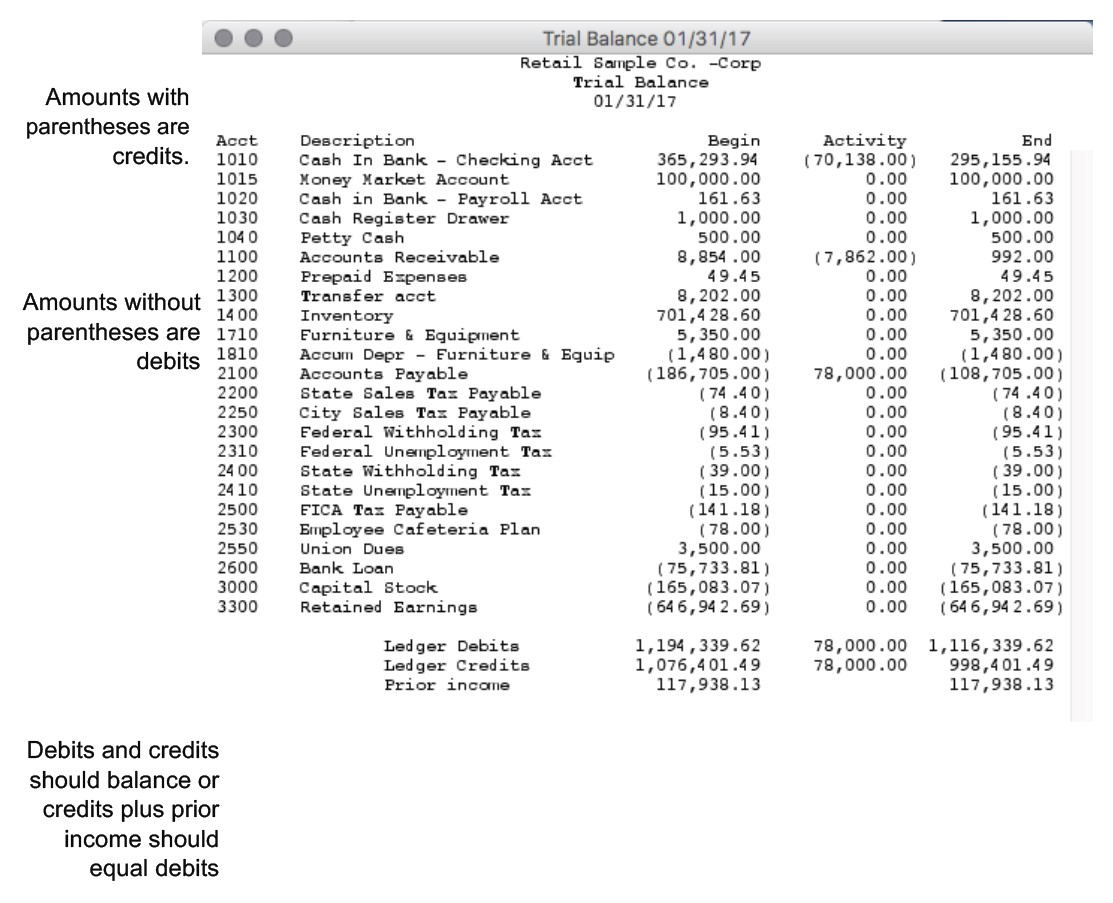 ---
Related Articles
How to Create Chart of Accounts Report
How to Create Transaction Journals Reports
How to Create General Ledger Report
How to Create Balance Sheet Report
How to Create Income Statement Report
How to Create Cash Flow Reports
How to Create Financial Snapshot Reports
How to Create Sales Tax Reports
How to Create Salesperson Reports