Sales Tax Report
MultiLedger provides a detailed sales tax report that can help in completing sales tax forms for various state and local agencies. Sales tax amounts are recorded on the Customer Invoices window.
Click Sales Tax Report in the Command Center.
The Sales Tax report can include all or a selected group of sales tax categories. The Sales Tax report includes the following information for the selected month or range of months:
Sales Tax category's name and tax percentage
The date, the invoice number, and the customer name for each invoice that was charged to the sales tax category
The taxable and non-taxable amounts for each invoice, along with the tax that was charged.
The total tax, taxable, and non-taxable amounts for each sales tax category.
Creating Sales Tax Report
Select the sales tax category or categories for the report.
If necessary, scroll the list box to find the name of the sales tax category you want.
You can select a consecutive or non-consecutive series of sales tax categories from the list (for details, see "Making Selections in a Reports List."
Select the month or range of months for the report.
Click View, Print, or Text File.
Sales Tax report example: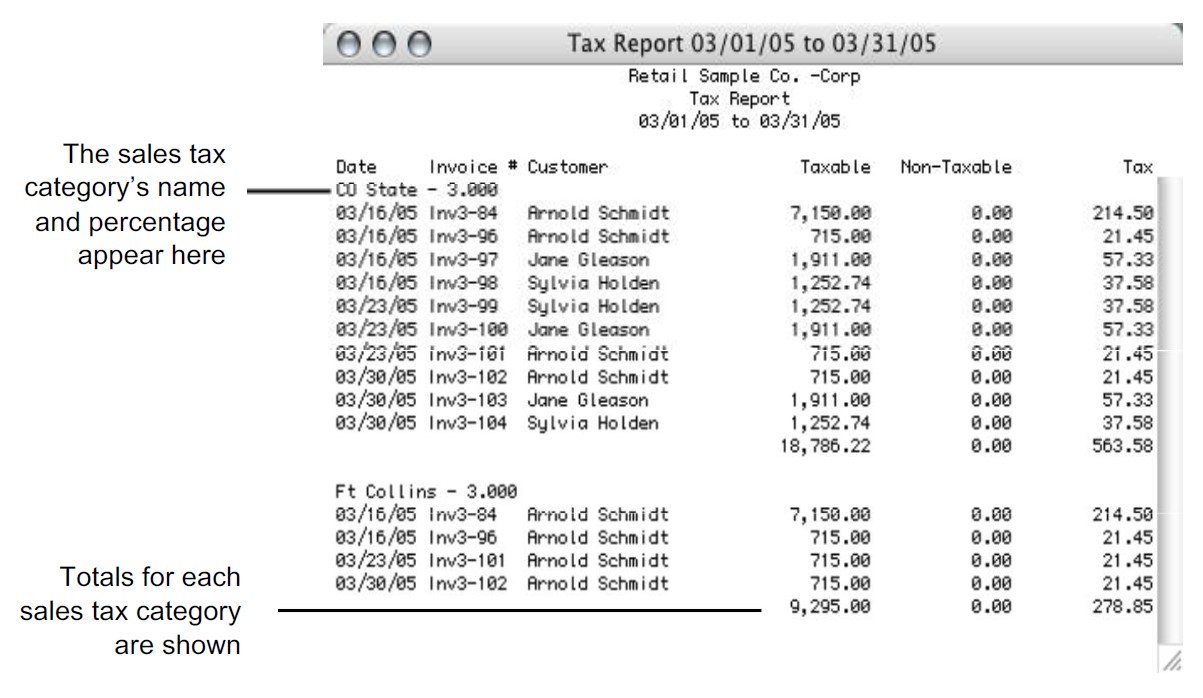 ---
Related Articles
How to Create Chart of Accounts Report
How to Create Trial Balance Report
How to Create Transaction Journals Reports
How to Create General Ledger Report
How to Create Balance Sheet Report
How to Create Income Statement Report
How to Create Cash Flow Reports
How to Create Financial Snapshot Reports
How to Create Salesperson Reports